Selecting the right type of wedding ceremony is a crucial decision for couples, especially for those having a destination wedding. It's the most common question we receive from our couples. We help them find and design the perfect ceremony that suits their love story. Based on our experience, we can discuss the most common ceremonies we have planned in the past.
Getting legally married in Mexico means having a marriage ceremony that's approved by the Mexican government. A Justice of the Peace does the ceremony at the spot you pick at your resort.
To do this, you need to first get a permit from the nearest Mexican consulate before you go to Mexico. After you have the permit, you show it and your passports at the place where you want to get married. Depending on where you have your wedding, you might need some more papers too.
The Marriage Certificate that you receive on the ceremony day  is only valid in Mexico. Once you have legalized your marriage in Mexico through the ceremony, you must legalize your marriage in your country of birth/residence if you want it to be recognized once you return home.
You do this by registering your marriage certificate at your local City Hall after receiving your marriage certificate. The wedding coordinator of your hotel will be able to assist you with this process.
Meaningfully Symbolic Knot-Tie
One of our Fav! It can be as touch full as you want and usually is performed by a non-denominational minister, so it is also called Spiritual Ceremony.
Add all the personal touches you want; from a  Sand to a Glass Ceremony, or Candle Ceremony.
Also, you can include other rituals or make it as religious as you want.  Mama would be proud!
In addition, you avoid all the legal requirements, got your Marriage license at home, and do not wait time having your papers legalized.
The tricky part, because is a spiritual union, it is not recognized by any authority; like the Catholic Church or the Laws.
Traditional Catholic Ceremony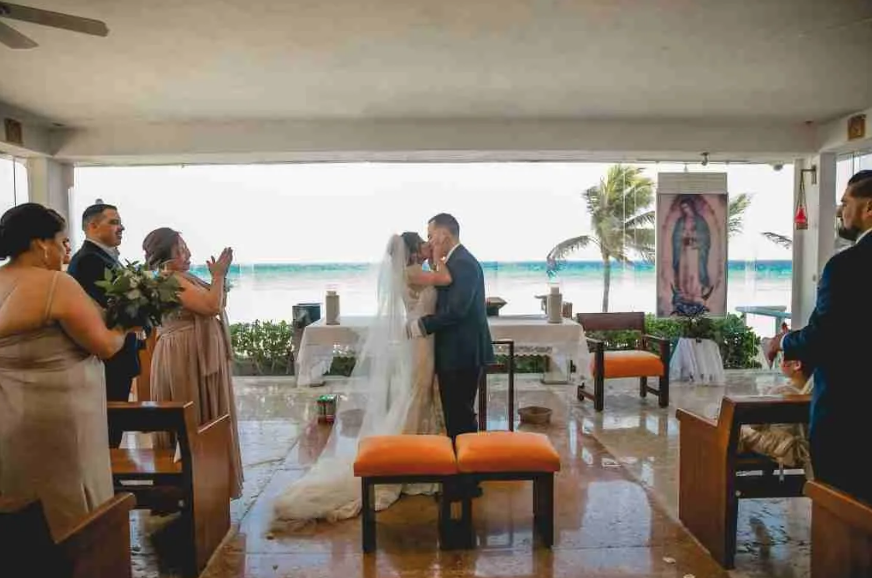 That idea always crosses our minds… that little voice that whispers to us, you should do a Catholic Ceremony, Grandma would be so proud! Is what Dad would want?
It is true… It is a great option if both of you want to follow this tradition. In Mexico, we include the arras exchange and the Lazo in our ceremonies.  It would be a nice touch to your ceremony too.
Remember that you would have to fulfill all requirements and the wedding ceremony can be officiated by a Catholic Priest always inside of a Church.
We have done ceremonies outside a Church, but this is more like a blessing, and the couple actually has their private ceremony a day before.
Mystic Mayan Wedding Ceremony
Having an affair with Mexico, is having an affair with its history. Mexican Ethnic people have a lot to offer and are the roots of our heritage.
Either you have a Mayan Ceremony inside an ethereal cenote in Quintana Roo or are you planning a Mexican fete at a Hacienda.  You can always add these elements to the mysticism of the moment.
This Destination Wedding Ceremony will be officiated for a Chaman or other ethnic representative. It will be super spiritual.